ED, our man in the back row
Why did our Zimbabwe President E.D. Mnangagwa get an invitation to the coronation of King Charles III? Our track record in international relations isn't good.  We are not a member of the British Commonwealth because the predecessor of ED, known by his primary initials, the late Robert Mugabe pulled us out the group and told it to eff-off after it continually moaned about his human rights record. Buckingham Palace clarified things this time around by politely saying to everyone who cared to know that heads of all former Commonwealth countries were invited to the service of pomp and ceremony at Westminster Abbey whether or not there had been problems with them in the past.
Far from its glory days of 56 members, the Commonwealth has been greatly whittled down as more countries declare themselves republics in the growing backlash over colonialism and slavery. At the last count there were 14 main members and a smattering of smaller countries and island nations from the age when imperialist Britain had painted much of the world map in its colour red.
Not surprisingly, the dominant state controlled press at home didn't see a snub in ED (Emmerson Dambuzo) being made to sit in the back row, so far behind more important invitees. The Zimbabwe media only told of ED's   successful meetings in London with prospective investors and his fruitful talks with Commonwealth leaders to get us back in.
ED, whose own human rights record is not above reproach, and the mega corruption of his administration cited by his critics, got no mention. But  ED did meet former British prime minister Tony Blair, once our arch enemy over human rights and the violent seizures of white-owned farms when he was in Downing Street 20 years ago.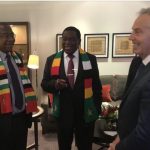 Mugabe always called Blair a "b-liar" (bloody liar) or a "blair toilet," based on our famous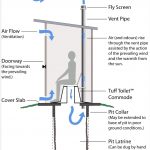 hole in the ground lavatory, complete with a cubicle for privacy and a ventilation chimney and a fly screen up top, which was named after the unrelated Blair Research Laboratory where it was originally designed. Dr. Dyson Blair was an eminent colonial sanitation scientist.
ED (centre), sometimes known as Scarfman, with Blair and our finance minister Mthuli Ncube, the overseer of our battered economy. The ever present scarf, no matter the weather, is supposed to emulate Mzee Kenyatta's lion hair flywhisk and 'KK' Kaunda's white hankie as trademarks of leadership.
(Top photo helpfully posted by Prof. J. Moyo on Twitter. Encircled and slightly closer than ED, presidents Hichilema and Chakwera of Zambia and Malawi and African royalty in the form of King Mswati III,  aged 55 and crowned when he was 18,  of Eswatini (Swaziland)  in the front row. He has 15 wives in the royal court, selected semi-naked in local tradition. In bars of southern Africa it is debated which ones he chooses to sleep with. )