Behold Floyd Mayweather, the new scarfman at election time
Harare, Zimbabwe. Happy to be home in Africa, says ' Roots syndrome' Mayweather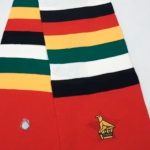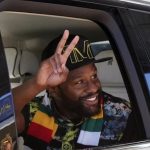 Floyd Mayweather has been and gone and the state media has made a meal of it.
The millionaire US boxer hosted a private dinner and the big brass invited were impressed by his agility of mind in business matters and his intellect, according to ZBC. Not every Tom, Dick and Harry was asked to sup with him.
So his brain wasn't bashed to a pulp in the ring. He is rated as one of the richest sportsmen and certainly the richest former boxing professional.
The 46-year-old continues with lucrative exhibition bouts, saying after one that he prefers 'currency to legacy.'  Last month he fought John Gotti III, grandson of infamous New York mafia don John Gotti, who died in jail and was once ranked the ninth richest criminal in the world.
That fight in Florida was stopped early, resulting in a chaos of fisticuffs between rival supporters. Gotti junior evidently still has contacts with mobsters through those lasting Italian family bonds.. 
Why was Mayweather in Zimbabwe? He was invited at election time by a ruling party loyalist himself enmeshed in a gold smuggling scandal by our very own so-called  'Gold Mafia.'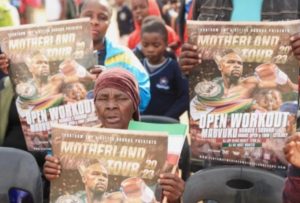 Floyd 'Money' Mayweather went straight to a ZANU PF election rally in the poor Harare township of Mabvuku where he whacked at a punch bag. "Mayweather mbinga … mbinga!" the crowds, holding his placards, chanted. (Mayweather … the rich guy!)  At home, he has more than 100 cars, five Rolls Royces and three Bugattis among them. Sounds familiar. Our elite love luxury cars. 
This was, Floyd told reporters, his Motherland Tour. "I am back home. I am back where I belong, I am truly back home."
Arriving on one of his two swanky private jets on Thursday, he left on Friday but will return to savour Victoria Falls and our wildlife, according to ZBC.  Their current slogan is "ED delivers" on re-engagement with the outside world and on his election promises. (ED is his supporters' moniker for President Emmerson Dambudzo Mwnangawa.)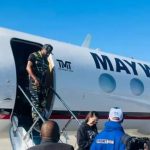 We've heard it all before, this Roots syndrome for self promotion and money-making by African Americans. Danny Glover said it when working on a movie here. Filming here too, the wonderful Morgan Freeman didn't fall into the trap. My roots are in Chicago, he told us.
Samuel Jackson said he would move to Africa if Trump won the election but never did.
Put your money where your mouth is, as the saying goes. We don't see them putting their money where their roots are.