Hell's Angel? Hell no, not me …
Think of bikers. Do you think of Hell's Angels?
Down here in Zimbabwe we have a different sort of biker. Big and powerful motorbikes? Yes. Skull and crossbones logos and regalia? Yes. Misnamed, mean-minded outlaw gangs with equally poisonous groupies and hangers-on? No.
Our bikers are certainly not wimps though. It's an addiction and a compulsion for the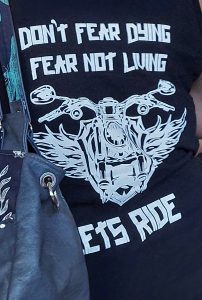 exhilaration of bikes. Speed, adrenalin and excitement on lovingly-tended machines that your life depends on. 
The slogans say "Grow Old Disgracefully" or "Don't Fear Dying, Fear Not Living. Let's Ride." There have been fatalities, half a dozen in recent times, but it's a bug that's in the soul. Nothing is quite like it, the bikers say.
Manoeuverability and acceleration deal with our potholes and calamitous four-wheeled traffic jams. One of the bikers has done more than 70,000 km on new bike since 2019 and swears two-wheels are a safe and quicker way to get around.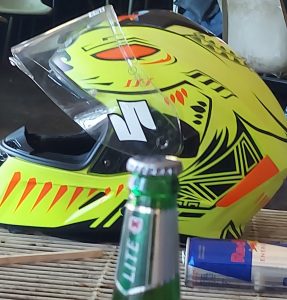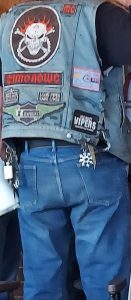 More than single bottle of a light beer beforehand causes bravado that creates risk taking and bad judgment. No booze at all is the general rule. The drinking and partying, and a lot of it, comes after the early Sunday morning meetings, rallies and cross-country races. The bikers have their own club house, a bar and eatery, where both the bikes and riders are left to cool down afterwards.
The skill to biking safely, apparently, is to second guess the surroundings and anticipate the actions of other road users. Don't travel close behind trucks or cars that: a) hide the line of sight to potholes ahead and: b) throw up debris. At speed a small pebble travels through the air as fast as a bullet.
One of the fatalities occurred when a farm tractor and trailer pulled out of a gate in an overgrown hedgerow without warning. That couldn't have been second-guessed, or foreseen.
When rallying in groups, a lead biker can go up front into the overtaking lane and when he pulls back to his side it warns of oncoming vehicles, and dangers that need caution – maybe breakdowns
, maybe elephants crossing the road …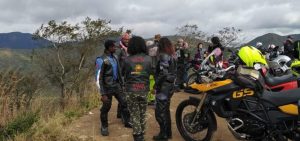 What better way to see Zimbabwe's beautiful Eastern Highlands than biking and rallying on zig-zaggy roads through the upper reaches of the mountains? Or visiting that wonder of the world, Victoria Falls, nearly 1,000 km away, about 12 slow hours non-stop in a car, or the magnificent Lake Kariba, 350 km away, up to six hours in a car. Since the demise of our workhorse rail services, the Kariba route has been chewed up by heavy goods trucks going next door to Zambia.The road is collapsing at the edges in parts and what's left of the camber can be awkward.
We have a saying here, we drive on the left of the road in the old British way but often now we drive on what's left of the road.
One key element is that the bikers get sponsorship for their rallies and donate the funds raised (US$700 in one recent event, big money here) to charities – from childrens' and old folks' homes to one-off desperate causes. Not something the Hell's Angels would do.
But there is a rumour that one of our fatal bike accidents was staged to get rid of a rival. In Zimbabwe's murky political landscape Road Traffic Accidents (RTAs) have been used in the past to eliminate opponents who err from the party line.  
Our bikers are a good-natured multi-ethnic bunch, some well-to-do, some not floating in cash. They don't have problems at our frequent police road blocks; the cops usually ask how fast the big bikes can go and look at the speedometer markings. The big, heavy 1,600 cc BMW, a cool US$ 20,000-worth or thereabouts complete with reverse gear and stereo sound,
goes up to 260 kph on the clock in a country with a top speed limit of 120 kph. The cops, who don't even have bicycles, regard the bikers in awe. 
No ridicule for the owner of the Vespa, the small Italian-designed scooter for riding while sitting up straight. It's not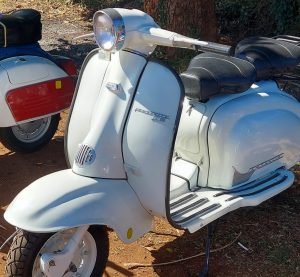 quite the throbbing monster many of the enthusiasts love so much.
The bikers' Ulyesses Club Zimbabwe gets the English name for Odysseus, the brave hero of ancient Greek/Roman legend. It's members partake in biking events across the  borders which can attract 1,000 riders and 'bike heads' from all over the region.
They have a spot on Facebook but admit to needing a volunteer to keep it updated. Computers don't roar and emit  blasts of exhaust. Sponsors and donations for their charities are always welcome and appreciated. 
I used to love bikes but gave them up when I fell off once too often. You see you've got to wear proper protective clothing – shorts are out,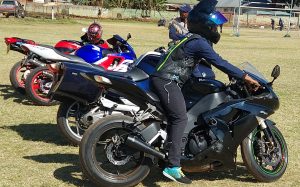 black leather is good – and helmets, or you'll scrape off your skin on sandpaper-like tar, cripple yourself or damage your pip (brain) beyond repair.
No big bikes have been perceived among the angels in heaven, or among the Hell's Angels in hell for that matter, or wherever it is bikers reach in the end.