Our foremost hero Mbuya Nehanda is crying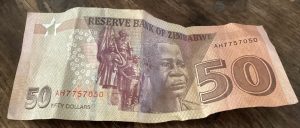 The people out there are saying that Mbuya Nehanda is crying: You put me on the 50 dollar note now worth a measly 3 US cents..
Even a 'freezit,' the frozen flavoured drink sold on the street that comes in a small plastic sachet, costs four Mbuya Nehandas – 200 Zimbabwe dollars, and probably less. It's the cheapest of all refreshments in the ice lolly range. 
One 50 dollar Mbuya Nehanda is worth between 3 US cents and 5 US cents, depending on the volatile exchange rate. 
How could you humiliate me like this? Especially after you spent millions of American dollars putting up a bridge walkway for a bronze statue of me standing over the junction of Nyerere Way and Machel Avenue in the centre of Harare. Julius and Samora were great men but juniors compared to me and Sekuru Kaguvi because we started it all in the first place and paid the ultimate sacrifice.
For the uninitiated, Mbuya Nehanda was a spirit medium of noble Shona birth executed on the orders of "Hanging Judge" Watermeyer in 1898. She and Kaguvi began organising resistance against white settlers almost immediately after they began arriving in this territory, culminating in an uprising known
as the First Chimurenga of 1896-7.
The Second Chimurenga was the guerrilla war that ended with independence in 1980 and the Third Chimurenga is loosely known as the violent seizures of white-owned farms initiated by Robert Mugabe after 2000.
Some say it was the farm invasions that triggered the freefall of the economy in the former regional 'breadbasket,' turning it into a 'basket case' and regularly creating massive inflation – among the worst in the world.
Zimbabwe Finance Minister Mthuli Ncube says despite huge downward spirals in its value lately, and the fact that less than one quarter of the economy transacted in it, our own Zimbabwe dollar is here to stay.
"Zimbabwe is very clear, the currency for transaction is the Zimbabwe dollar and the US dollar and we are very comfortable with that,"  he told Bloomberg TV a couple of days ago.
The trouble is that the local dollar was pegged in 2019  at 1 for 1 American. Central bank governor John Mangudya promised then he would resign if that changed. Resignation is simply not in our DNA
But the Zimdollar trades today at an official rate of 1,000 to 1 greenback and at between 1,400 to 1,800 on the dominant "parallel" black market. Obviously, Mangudya hasn't yet resigned. Resignation of top officials is not in our DNA.
This is what puts the Mbuya Nehanda 50 bill at 5 US cents max. No wonder she is crying. The highest local denomination is a Z$ 100 bill, or 10 cents tops. 
My friend who travels a lot on our wholly inadequate public transport tells how an elderly lady –  an ambuya (a respected grandmother) or a gogo – got on and was asked brusquely for 'dollar fifty.' Befuddled, she handed over three Nehandas (1.50, she thought) but mercifully fellow travellers put together the equivalent of US$1.50 for her fare.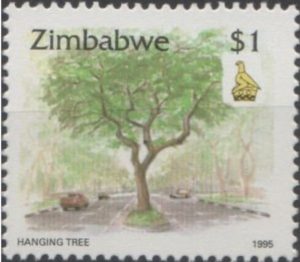 Nehanda, by the way, wasn't hanged on The Hanging Tree on the central aisle of Tongogara Avenue as in popular legend. Drivers who swerved into it used to blame her. And we had a postage stamp on it when our postage delivery still worked. Mbuya Nehanda died on the gallows in the Salisbury central prison, near the old police station. 
Even so, when The Hanging Tree fell down, finally hit by a city council truck, believers came from far and wide to grab bits of the branches for keepsakes..