What now?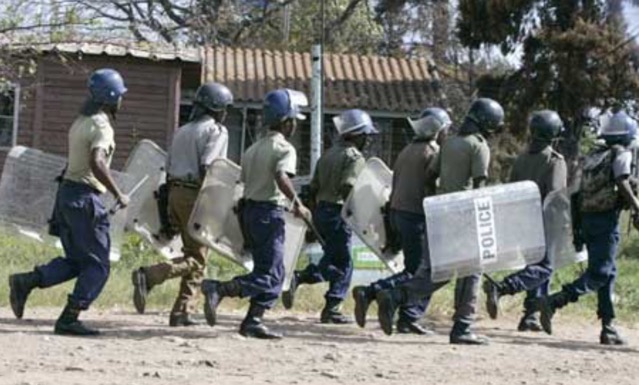 A neighbour down the road says he has never been as demoralised as he is now but nor has he been crossing his fingers as much as he does every day that an end might finally be in sight.
The difference this time is there's no money and the social media is ever more influential. Smartphone videos of horrific police brutality have brought it home to the most skeptical.
Mr Mugabe's information minister has just been in China where he told his hosts Zimbabwe has about 1.5 million people on social media and asked how they control theirs, with 700,000 million people with access to social media. Just switch it off when necessary, easy-peezie! If  you are worried about the implications, we don't worry about freedom of expression. If you do, just say there's been power cut.
There has been no running water in our neighborhood for a while because the pumps have broken down again.  My neighbour hasn't got enough cash at hand to buy a delivery of fresh water. How on earth do people in townships which haven't had water for months or years manage? he asks. Or those who have long been denied enough health care, education, jobs, food, shelter and general rights? How do they manage?
It begins to dawn on him at last. When the comparatively well-to-do get so exasperated they begin to understand the desperation of the poor, the unemployed, the sick and the dispossessed. When the middle classes can't any longer drop by the bank to get money to pay what they consider their essentials, one of Mr Mugabe's ministers urges unpaid civil servants to be patient, the minister himself having just been identified by the auditor general as being awarded a $ 200,000 car loan from state coffers. And the head of one of Harare's main hospitals buys an $88,000 Jeep Cherokee when there are no aspirin or basic drugs down there.
Both say everything was above board and they were officially entitled to the money. Good gracious, gasps my neighbour, this is surely not about entitlement, it's about morality.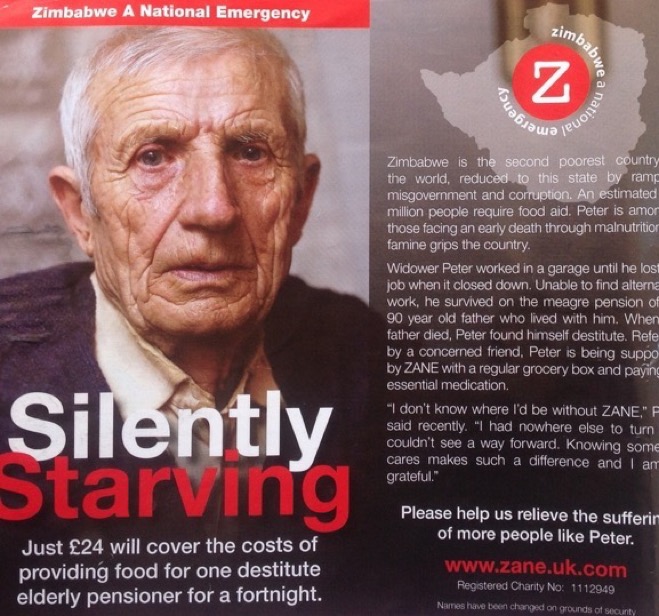 THIS IS NOT MY NEIGHBOUR.
IT IS AN ADVERTISEMENT APPEALING FOR DONATIONS BY  THE CHARITY ZANE – ZIMBABWE A NATIONAL EMERGENCY – FOR DESTITUTE  PENSIONERS.
IN MY NEIGHBOURHOOD THERE ARE SEVERAL PENSIONERS LIKE PETER – ONE IS LIVING IN HIS FORMER DOMESTIC QUARTERS – AND THERE ARE MANY, MANY MORE  OF ALL RACES AND CREEDS THROUGHOUT THE NATION.